Dear 8th grade parents, Each year our 8th grade students have the opportunity to work in the concession stand at JH volleyball and basketball games. This earns money for our end-of-school activities. What we don't use will go forward with them to aid their Project Graduation account in high school. Lois Hall has graciously agreed to help with organizing workers this year. If you are interested in helping, please reach out to her via email (
Loishall@calvarytalco.com
), or text (903-285-8205). Thanks in advance!

Dear parents: Today, at Rivercrest Junior High School, your child participated in a fire drill. It is important for students to be prepared and not scared should a situation ever occur. Please talk to your child about the drill, and reinforce the importance of practicing. If this had been a real fire, you would have received instructions on what needed to be done in order for all students to remain safe and secure. If you have any questions or concerns, please call the office. Thank you for continuing to trust Rivercrest with your students' safety and education.
Here are the 20232-23 Bus Routes and Drivers -- please use your address to determine which route your child will be on this year.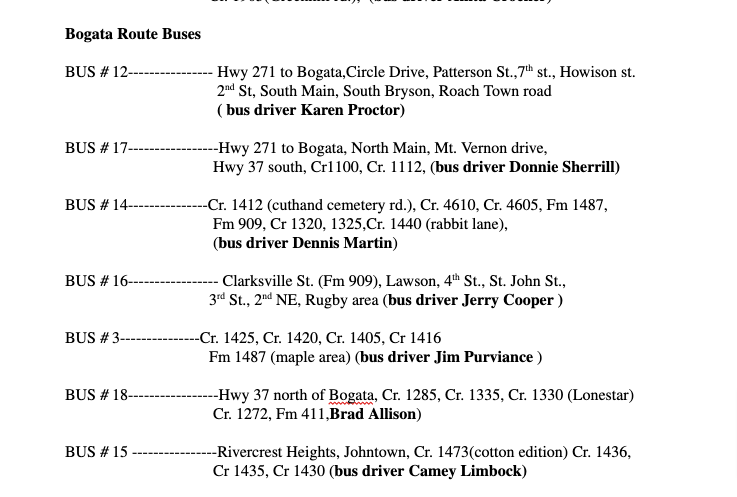 Parents, Best in Class offers prepackaged school supplies that you can order in advance for next year. If you are interested, go to
www.schoolsupplies.us
Use code RIVELE

Parents who are coming for the awards assembly tomorrow are encouraged to come into our building through the South doors (HS parking lot). We will have sign-out sheets in the cafeteria for parents who are taking their students home after the ceremonies end.

A big thank you to all the 8th grade parents and students who made our celebration successful this evening.


Good morning, We are going to try online scheduling this year. You will need to go to your Student Portal account and select the classes you would like to take for next year. Sorry, there's no way out of taking Math, Science, Reading, and History. Your choices look like this: Incoming 7th Grade Students Athletics (7th grade students must choose Athletics or PE.) PE Band Health Incoming 8th Grade Students Athletics (8th grade students can substitute Band for a PE credit.) PE Band Ag Digital Communications (Computers) If you have not set up your Student Portal account, you can ask Mrs. Pitts, Mrs. Limbock, or Miss Lisa for help. You should have your choices completed by the beginning of next week. Thank you

Our 8th grade awards assembly is scheduled for next Thursday (May 26th) at 8:30 AM. The 6th and 7th grade assembly will follow shortly after (9:15). All parents are invited to attend. We will also host our annual dodgeball tournament that day following the awards.

The 8th grade end-of-year celebration is scheduled for Monday (5/23) from 6-8 PM at the JH campus. There will be food, drinks, and bounce houses for all Rivercrest 8th grade students. 8th grade parents are invited to attend and help with cooking, monitoring students, and clean-up.
Congratulations to the 7th Grade Rebel Track team!!! They are the 2022 District Champs!

In an effort to be as transparent as possible, Rivercrest ISD is making the following public statement regarding an incident at the high school today. A student was reported to make threats of violence against other students at the campus. The threats were reported to the campus principal after school, who immediately investigated with campus police. It was determined that there is no credible threat to the students or staff at RISD. We appreciate the trust you continue to give us with your children and will do all we can to maintain a safe campus and a safe learning environment.

Rivercrest ISD will have a 10:00 start tomorrow morning (2/24/2022).

Rivercrest Junior High School plans to host a Valentine's dance on February 10th from 6-8 PM. This will be an informal event with no admission being charged. All RJHS parents and students are invited to attend, and we will follow our dress code for the event. If you would like to donate, please consider sending snacks with your student. 6th grade - Sweet snacks (cookies, brownies, etc.) 7th grade - Salty snacks (chips, pretzels, etc.) 8th grade - Drinks (canned sodas or water)


Due to a scheduling conflict, next week's JH basketball games have been shifted to Monday (1/24) at Detroit. There will be four games beginning at 5:00. Go Rebels!

All Rivercrest ISD campuses and offices will be closed Thursday, January 13th and Friday, January 14th due to a large number of student and staff illnesses. Classes will resume on a regular schedule on Tuesday, January 18th.

Parents, If you choose to take your student home after the elementary program tomorrow, please sign them out as you leave. We will have a table with extra sign-out sheets in the hallway by the office. Thanks, and Merry Christmas!

With the holidays approaching, there may be a lot of down time for students. We can help! Our library has e-books available for students. Please follow these steps to access them. There are two ways to access our eBook collection: 1. From within Follett Destiny® – search for them just like other books 2. By visiting GoFollett.com and searching for our school Happy reading!