Rivercrest ISD will dismiss school at 1:00 on Tuesday, March 2nd to give Rivercrest fans time to safely travel to Denton for the Rebels Regional semi-final game against Cisco. School will start at the regular time Wednesday morning.

Region 2 AA Regional Semi Finals Rivercrest vs Cisco Tuesday March 2nd 7:00 @ Denton Ryan HS Rivercrest will be visitors Tickets will be online only, no passes accepted Ticket link will be posted tomorrow or Monday morning.

Congratulations to the Rivercrest Rebels with a Regional Quarterfinal win against Celeste.

Rivercrest Rebel Area basketball game information. Rivercrest vs Honey Grove Tuesday Feb 23rd @ Paris High School Tip-off 7:00 PM Honey Grove- Home Rivercrest- Visitor $5 Tickets Tickets can be purchased by clicking on
https://gofan.co/app/events/246321?schoolId=TX16138
Tickets will be on-line only. No tickets will be sold at the gate. Please have the ticket pulled up on your phone to expedite entry into the event. Face Covering: All employees, parents, visitors and students 10 years of age or older must wear a face covering or face shield upon entry to an area where UIL activities are being conducted and when not actively practicing or play in the contest, unless an exception applies. If you do not have a face covering there will be no admittance. Temperatures will be checked upon entry. If anyone has a temperature over 100.4 they will not be admitted to the event.
Due to no produce delivery, the cafeteria will not be able to offer chef salads as a lunch option at any campus this week. The JH & HS campus will follow the menu listed for the week of Feb 16-19. The elementary menu changes are on the website under Elementary Cafeteria Menu. You may call us with any questions at 903-632-5205 ext. 3040 Lisa Roach, Child Nutrition Director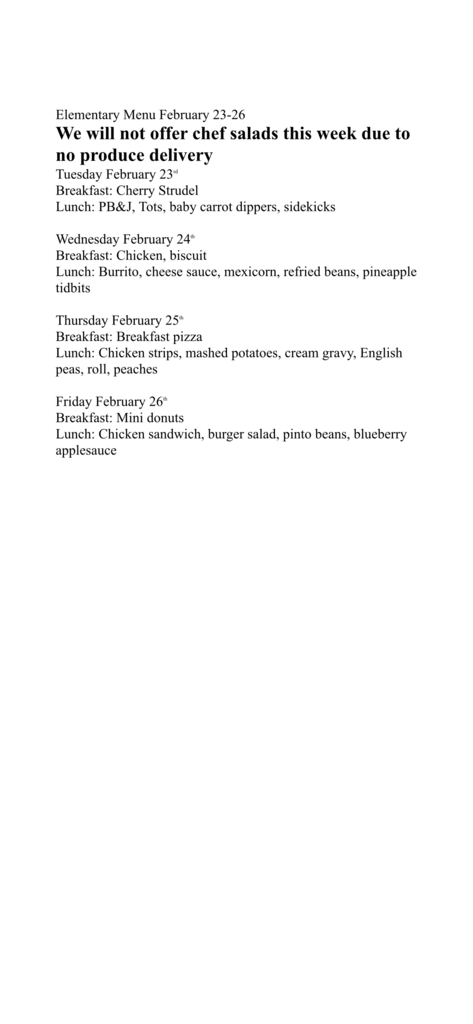 Rebel Basketball Area Playoff Game Information Rivercrest vs Honey Grove Tuesday Feb 23rd @ Paris High School 7:00PM if a single game 8:00PM if a double header Actual game time will be posted as soon as it is confirmed. Tickets will be sold online and the link will be posted Monday Rivercrest will be the visiting team. Go Rebels!

The Rivercrest boys basketball playoff game that was originally scheduled for Friday, February 19th has been rescheduled to be played on Saturday, February 20th. Tip-off will be at 4:00 pm in the Prairiland High School Gym.

Rivercrest ISD Parents and Community, Rivercrest ISD is cancelling classes for the remainder of this week due to weather conditions. Classes are closed from Monday, February 15th through Friday, February 19th. These are "bad weather days" and not "remote learning days" Again, the temperatures and weather conditions can be dangerous, so please take care of yourselves and be careful. School will resume on a normal schedule on Monday, February 22, 2021. Stay warm and be safe, Stanley Jessee

Rivercrest ISD Parents and Community, In anticipation of the extreme weather conditions that are forecast for this weekend and next week, Rivercrest ISD is cancelling classes for Tuesday, February 16th and Wednesday, February 17th. I know the forecast for the rest of the week doesn't look very promising, but we will make those decisions as we get closer to that time and have more current information. As a reminder, all students are out of school Monday due to a scheduled staff development day. These days that are taken off next week are not "remote learning" days, they are "snow days"😊. It isn't very often that we get snow in our area so I hope our kids (and parents) are able to enjoy time playing and having fun! Keep in mind though, the temperatures and conditions this weekend and next week will no doubt be uncomfortable, and can also be dangerous, so please take care of yourselves and be careful. Stay warm and be safe, Stanley Jessee

Rivercrest ISD will have a two hour delayed start tomorrow, Friday, February 12th. This will give is time to evaluate road conditions. Classes will start on all campuses at 10:00.

*Girls Playoff Game Update* The start time has been moved up to 6:00 PM tonight at Sulphur Springs HS for the Lady Rebel Bi-District playoff game. Fans can enter the gym beginning at 5:00 PM

Rivercrest ISD will be closed today due to hazardous road conditions. Be careful if you have to travel. We plan on starting school at regular time Friday morning.

Rivercrest ISD will have a two hour delayed start on Thursday, February 11, 2021. Weather forecast calls for precipitation with temperatures near freezing which could make roads hazardous. Classes will begin at 10:00 am on all Rivercrest campuses. Weather conditions are concerning throughout the weekend and as we prepare to come back to school next week. Monday, February 15th is a staff development day so the students will not be in school that day. Due to the expected extreme temperatures and chance of precipitation, Rivercrest is going to go ahead and call a two hour delayed start on Tuesday, February 16th. This will give us time to evaluate weather conditions
Get your tickets for the Lady Rebels Playoff Game by clicking the link below -- use the code LadyRebels2021 Thursday, February 11 7:30 Sulphur Springs High School **NO TICKETS WILL BE SOLD AT THE DOOR
https://ssisd.simpletix.com/e/64056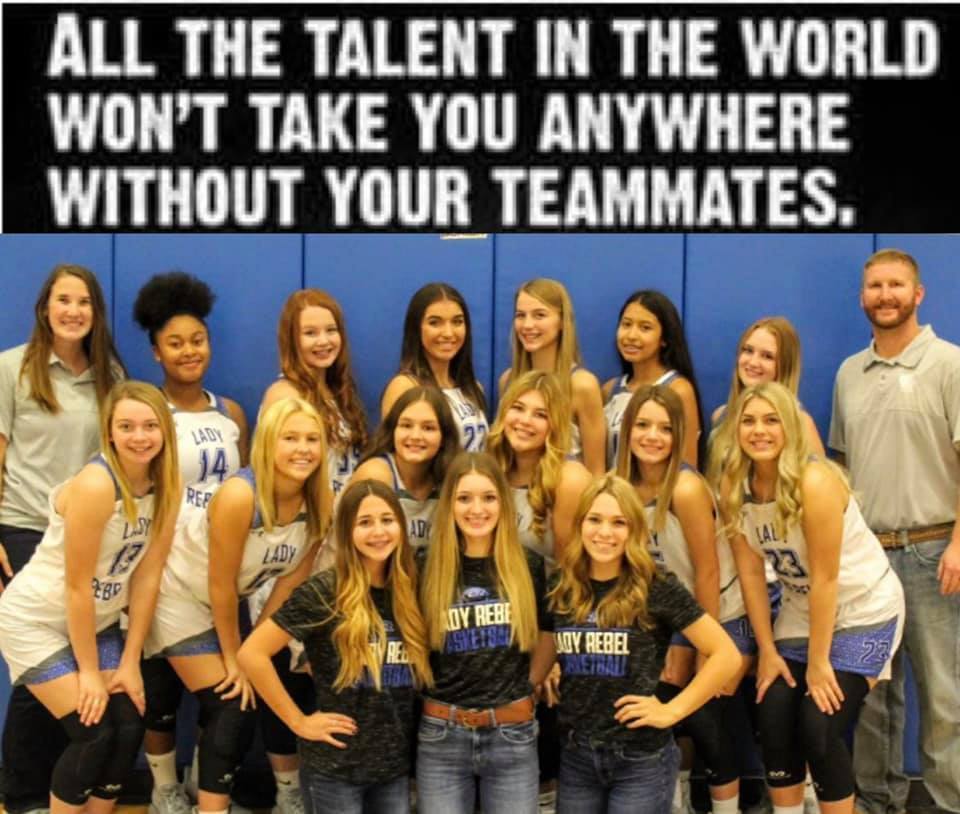 "Caught Being Kind" at Rivercrest Elementary We're celebrating Random Acts of Kindness Week February 8th-12th. Our faculty will be watching closely to "catch" students demonstrating kindness. If your student is "caught" then their name will be placed on the KINDNESS BANNER and they might win a door prize! If you'd like to reinforce KINDNESS at home, here are some things to think about. "Catch your child being good." Find something that you like and praise them for it! "You made your bed without being asked, that's terrific!" or "I was watching you play with your sister and you were very patient." These statements will do more to encourage good behavior over the long run than repeated lectures. Make a point of finding something to praise every day and be generous with rewards. Your love, hugs and compliments can work wonders and are often reward enough. Soon you will find you are "growing" more of the behavior you would like to see! Have fun spreading kindness and please let me know if I can assist you in any way. Stacy Irwin, RES Counselor
Rivercrest will observe Monday, January 18, as a school holiday in honor of Dr. Martin Luther King Jr.
Elementary Menu Breakfast: Pop Tarts & Cereal Lunch: Ham & Cheese Croissant, lettuce, tomato, curly fries, banana OR Chef Salad Junior High/High School Menu: Breakfast: Muffins & yogurt Lunch: Ham & Cheese Croissant or personal pan pizza, lettuce, tomato, pickle spear, curly fries, banana OR chef salad

Rivercrest ISD will be closed today, Monday the 11th, due to hazardous road conditions. Classes will resume on a regular schedule on Tuesday, January 12th.

Rivercrest ISD will have a two hour delayed start tomorrow, January 11th, due to concerning weather conditions. The delayed start will give the District time to monitor road conditions as early morning temperatures could possibly fall below the freezing point. Buses will run two hours later than normal and classes will begin at 10:00. Notifications will be sent in the morning if there are any changes to this start time. Also, because Red River County has more than 30 active COVID cases, Rivercrest is under a mask mandate. All staff and students must wear a mask at school when they are not able to socially distance. Thank you, Stanley Jessee

Due to the increased number of active COVID cases in our communities during the Christmas break, Rivercrest ISD is postponing the return of school for students and staff until Monday, January 11th. This will allow students and staff more time to monitor, and quarantine, if necessary, after the Christmas break. Students and staff will return on a regular schedule on Monday, January 11th. High school basketball games will continue as scheduled. Thank you for your understanding, Stanley Jessee