Elementary: Spring pictures are Friday, April 8. Order online! See the flyer for directions.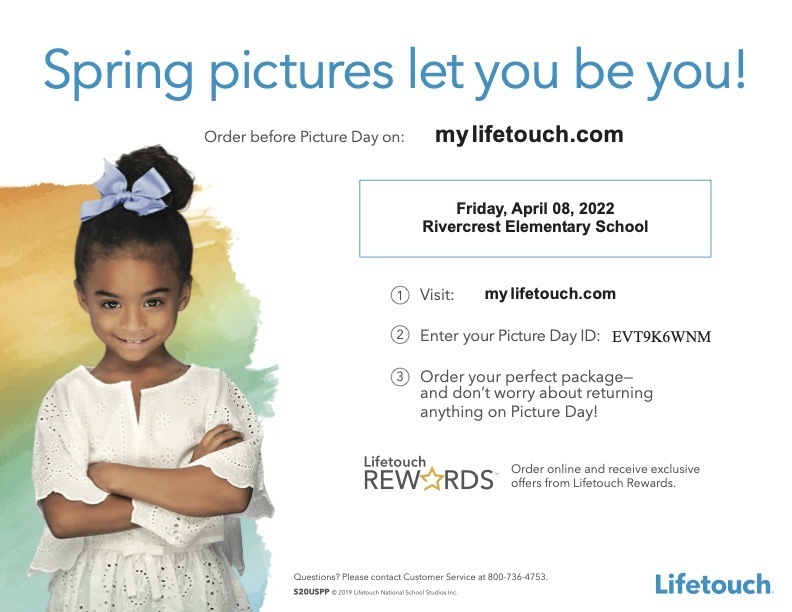 School will resume on Tuesday, March 22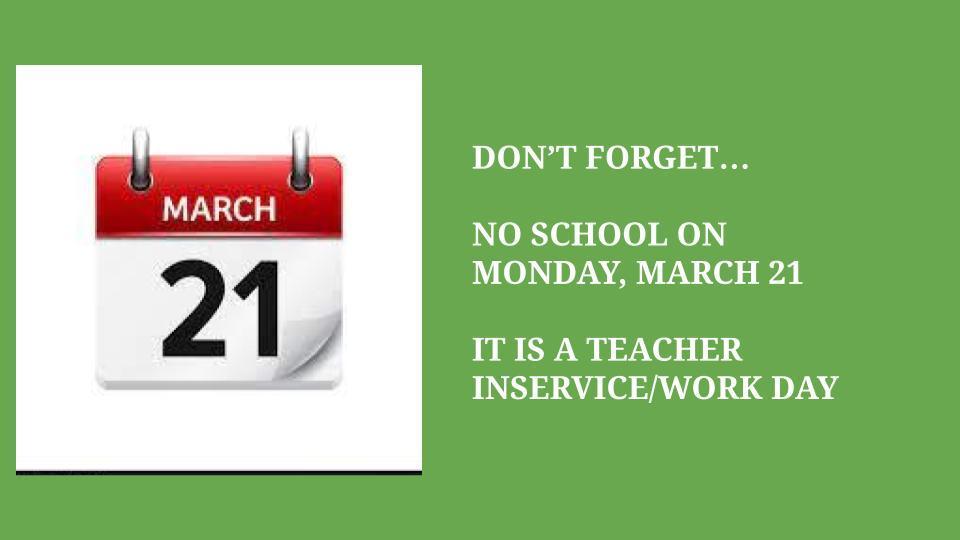 Spring forward! Don't forget to move your clocks UP one hour tonight!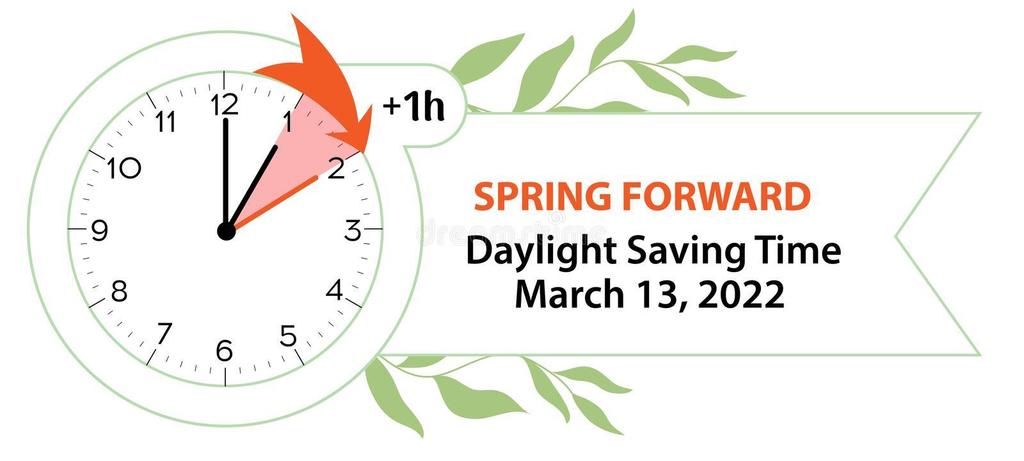 Mark your calendars!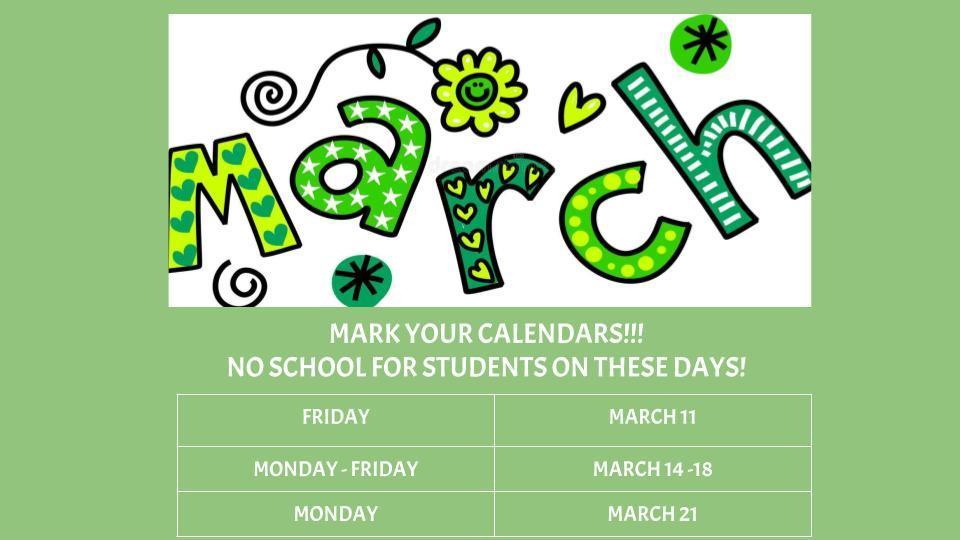 In an effort to be as transparent as possible, Rivercrest ISD is making the following public statement regarding an incident at the high school today. A student was reported to make threats of violence against other students at the campus. The threats were reported to the campus principal after school, who immediately investigated with campus police. It was determined that there is no credible threat to the students or staff at RISD. We appreciate the trust you continue to give us with your children and will do all we can to maintain a safe campus and a safe learning environment.
Rivercrest ISD will observe Spring Break March 14 - 18.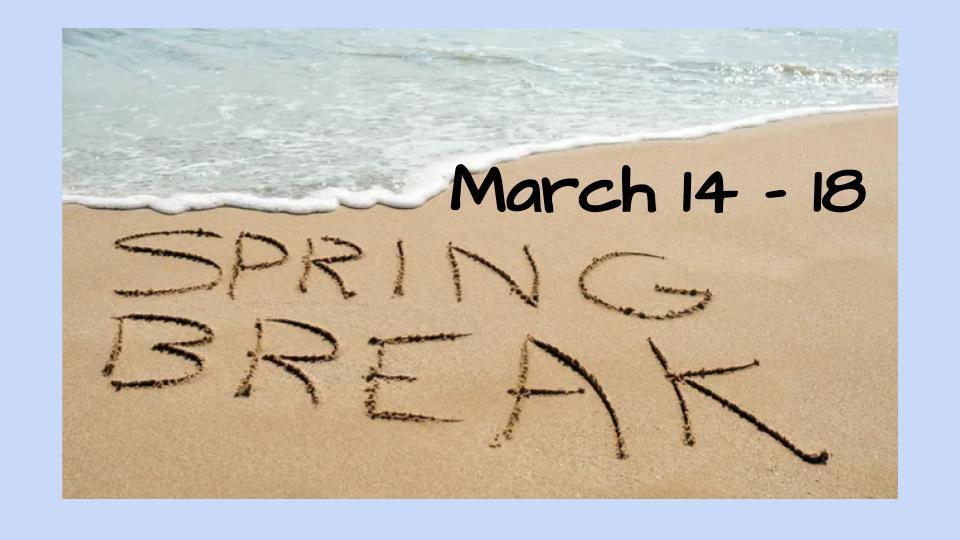 NO SCHOOL FRIDAY, MARCH 11 -- It is a teacher inservice/ workday Spring Break March is 14 - 18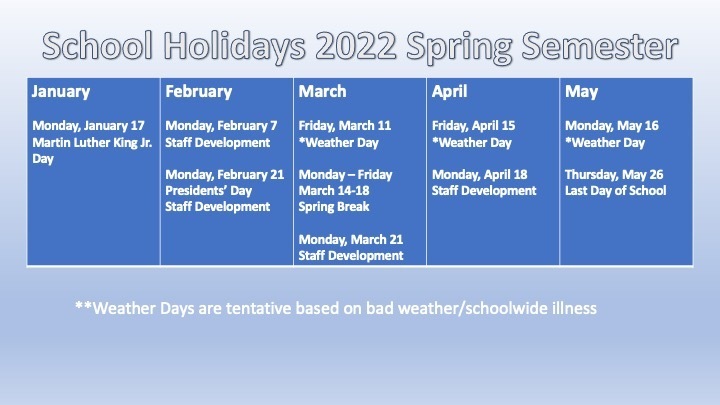 Rivercrest ISD Events for the week *Please note: Spring sports schedules can change quickly due to weather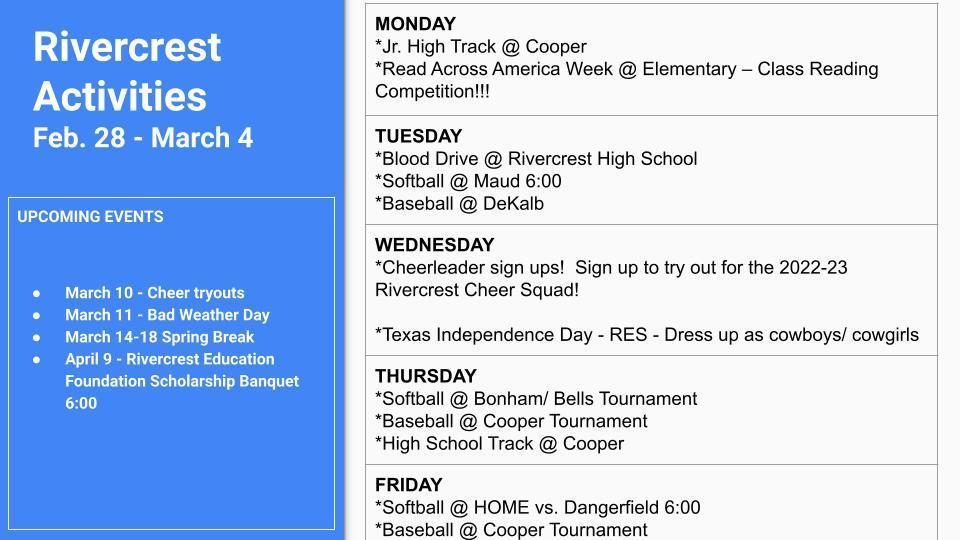 Elementary Lunch for Febraury 25 will be Chicken drumsticks, mashed potatoes, cream gravy, steamed vegetables, and fruit cup.

Rivercrest ISD has a 10:00 start today (Friday) and buses will run two hours later than usual.
School is closed today due to icy bridges, roads, and the chance of potential weather throughout the day. We will have a DELAYED start tomorrow at 10:00

Due to inclement weather, Rivercrest ISD will have a 10:00 start on Thursday. A decision will be made by 8:00 am should school need to be cancelled.
Rivercrest High School Student Council will sponsor its second of three blood drives on Tuesday, March 1, 2022. The blood drive will take place in the high school Gymnasium from 9:00 AM - 2:30 PM. Community members are welcome to give and walk-ins are welcome. Students must be at least 16 years old to give blood and students under the age of 17 require parental consent. Seniors who donate twice during their senior year are eligible to receive red cords worn at graduation. Online scheduling is now available. Donors can schedule their appointment by using the following link. Ø
https://ww3.greatpartners.org/donor/schedules/drive_schedule/120164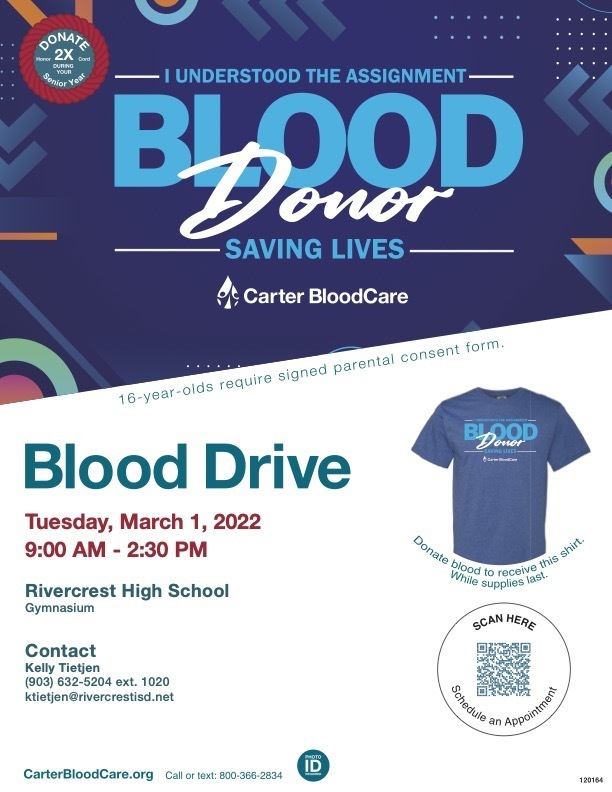 Out of an abundance of caution, Rivercrest ISD will be closed Friday, February 4th due to potentially hazardous road conditions.

Due to inclement weather predicted for tomorrow, Rivercrest ISD campuses and offices will be closed, and all school activities will be cancelled, for Thursday, February 3rd. Decisions concerning school for Friday will be made by Thursday evening. Please be safe and stay warm during this winter event!
Thursday 1/20 Menu for elementary Breakfast: Variety Lunch: Spaghetti with meat sauce
Breakfast & Lunch Menu for Elementary January 18: Breakfast bar & hash browns; Chicken bites, mashed potatoes, gravy, carrots, roll, craisins. NO CHEF SALADS THIS WEEK

All Rivercrest ISD campuses and offices will be closed Thursday, January 13th and Friday, January 14th due to a large number of student and staff illnesses. Classes will resume on a regular schedule on Tuesday, January 18th.
Elementary Parents: For safety reasons, we ask that ALL transportation changes for your child be sent to us in writing either by note in their folder in the morning or email
bus@rivercrestisd.net
We can no longer accept phone calls for bus/ pick-up changes. **All changes must be sent before 2:00 pm ** You can also click the link on our website
https://www.rivercrestisd.net/o/res